Ukindia Urdu Lesson 17
---
---
Lets read the following real life ad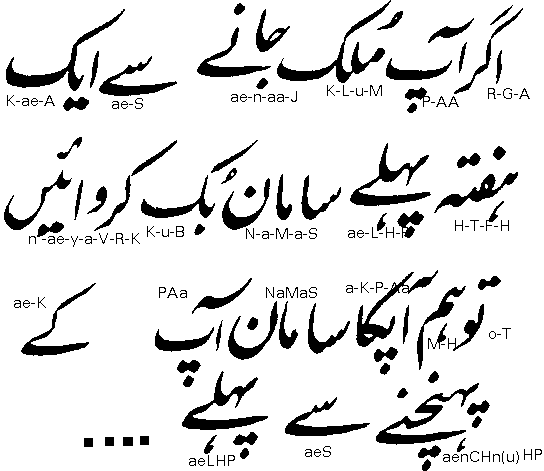 It reads
Agar aap mulk jane se ek hafta pehle
If you country going to one week before
saman book carvayen to aap ka saman
luggae book do then your luggage
aap ke phunchane se phele...
your arrival before..
It is promising to deliver your luggage to the country of arrival before you if you book it a week in advance.
Read the next ad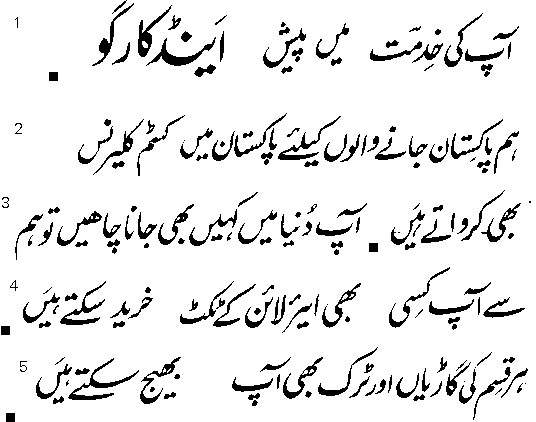 Each line reads
Aap ki khidmat men pesh intercargo
Hum Pakistan jane walon ke liye Pakistan mein custom clearance
bhi karvaten haen. Aap duniya men kahin bi jana chaen to hum
to hum se aap kisi bi airlines ke ticket kharid sakte hain
har kism ki ghadiya aur truck bi bej sakte hein.
The above says it can clear your cargo for customs and sell you any airline ticket and even send your car or truck.Note vocabulary duniya=world, khidmat=service, kharid=buy, ghadiya=car
Lets resume the vocabulary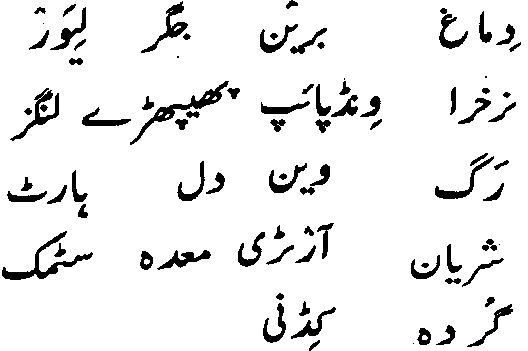 Reading the above from L to R as in English
liver=j(i)gr, brain=dimag , lungs=phephre , windpipe = nrkhra, heart=dil, vein=rg, stomach=maida, artery=shryan, kidney=gurde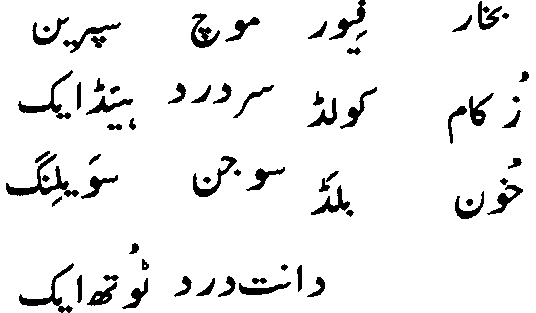 Illnesess -sprain=moch , fever=b(u)khar, headache=sirdurd, cold=zukam , swelling=sujan, blood=khoon, toothache=dantdurd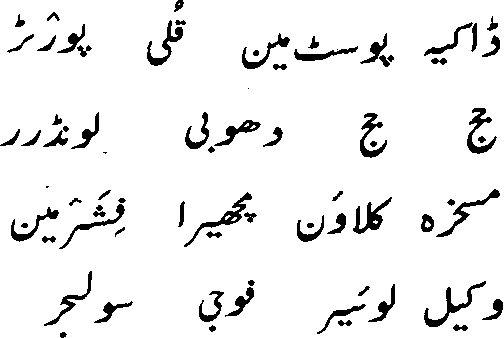 ocupations - porter=qulee, postman=dakyh, launderer=dhobi, judge=judge, fisherman=machera, clown=mskhrh,soldier=foji, lawyer=vakeel Lesson 18..Home