For more than forty years, Prince Sabruddin Aga Khan has been collecting Indian and Islamic miniature paintings which range from 14th century Iran to 20th century India. Through these paintings, one can learn a great deal about the royalty, their life-style as well as how common people lived, loved and enjoyed themselves. The range of colours, forms, images,portraiture and designs is simply breathtaking
Over 140 paintings and drawings of exceptional quality in Persian, Turkish, Mogul and Deccan styles are on display at the British Museum, London until 13th April 1998. Then the exhibition will travel to a gallery near Harvard University in the United States as Aga Khan developed his interest in collecting these invaluable works of art while he was studying at the Harvard during fifties. Later a host of cities will display this collection before it finally arrives in Zurich in 1998.
During a preview of the exhibition, I asked Sadruddin Aga Khan if he would like to take these paintings to the coutries where they originated. "I have not received any indication. I can see no reason why they should not be seen in the countries of their origin, especially in Iran."
Aga Khan's grandmother belonged to the Persian Royal family and she had a great influence on Sadruddin's formative period of art appreciation. On asked about the critirea of buying Indian Rajput paintings, Sadruddin said: "colours, beauty of nature, plants and their relationship with
people, rajas, lovescenes and ballroom scenes, they relate to their own times and tell stories. My own religious background also influences a great deal.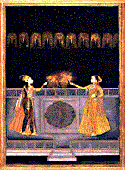 | | | |
| --- | --- | --- |
| | Ladies on a terrace with sparklers, Moghul India c. 1730-40 | |
This exhibition is curated by Dr Sheila Canby who also wrote comprehensive captions about each picture on display. One of the Deccani paintings that I admired was of the 16th century: "Ladies on a terrace". It seems that it was a diwali celebration.Sheil Canby writes: From this idyll of two fashionable ladies, holding sparklers over a small pool while fireworks splutter in the background."I was also intrigued by some of the Ragamala series of paintings. Sheila discribed these paintings as encapsulating the loving relationship of Krishna and Radha, which is the embodiment of the God's love for the soul. "Ragamala paintings are the pictorial equivalent of musical modes, organised in several systems and grouped in families consisting of the male raga at the head with several raginis, or wives, some sons called ragaputras, and occasional daughters - ragaputris," Sheila Canby describes them.
While looking at Kausa Ragaputra (c1700, Punjab Hills) done in opaque watercolour, the famous painter Balraj Khanna and curator of South Bank exhibition on Krishna revealed to me how intense natural colours were achieved in those days.

"The yellow colour for instance would have been extracted by a dehydration process of cow's urine. The holy cow was deprived of any liquid in the hot sun and her urine would come in a thick creamy yellow pigment which was used with 'gond', the persian gum on paper."


Whatever the process, the pictures look as new as if they were done yesterday. There are a number of gallery talks and seminar connected with this exhibition. A very lavish catalogue is published to accompany this exhibition which can be ordered from the British Museum Press for £40 Sterling.

Radha and Krishna seek shelter from the rain. India, Rajasthan, Bundi c. 1680
More information on this exhibition and other activities of the British Museum can be found on their website: http://www.british-museum.ac.uk